Digital Selling Capability Grant
10 September 2020
On 9 September 2020 a new Covid-19 Digital Selling Capability Grant (DSCG) was launched by Invest NI and will remain open for applications until 6pm on Wednesday 7 October 2020.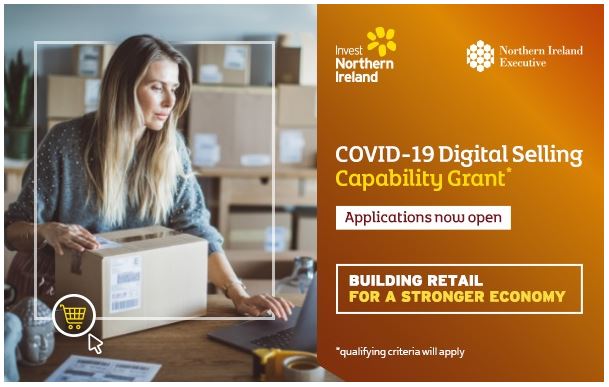 The grant is designed to help local small and medium sized retailers and wholesalers enhance their e-commerce capabilities. It is geared towards businesses that already have an online presence that accounts for less than half of their current sales, which they want to expand through the development of their existing e-commerce solutions and by engaging consultants to provide research, strategies and training.
Computer hardware is not covered by the grant and it is not an option for those that have not already developed an online presence. But for those businesses that have already made the step into the online world to sell their products, this grant offers the opportunity to increase online turnover in a cost effective manner.
Who is Eligible?
Retailers and wholesalers are eligible if:
• Their business is based in Northern Ireland
• Their business qualifies as small or medium as defined by the European Commission and employs ten or more full time equivalent staff in Northern Ireland
• Their business has an existing online presence
• Their business has a physical product that can be sold online and shipped to customers
• More than 50% of sales in the past 12 months have been made offline rather than online
• The project is not receiving any other public funding
• The project can be delivered, and claims submitted by 26 March 2021
• They can demonstrate they have a viable and profitable operation.
Certain businesses are not eligible to apply, including those involved in the production of agricultural products and those involved in the provision of services.
How Much Support is Available?
A grant of 50% of eligible costs is available for projects with a minimum eligible expenditure of £10,000. The maximum grant is £20,000.
Eligible expenditure includes consultancy services from a digital marketing or e-commerce supplier to carry out research, develop strategies, enhance existing e-commerce solutions and provide in house training.
Certain activities are not covered such as upgrades that could be considered business as usual, the purchase of computer hardware and pay per click advertising costs.
How to Apply
Full details on eligibility and how to apply can be found HERE 

Director, Audit and Business Advisory Services